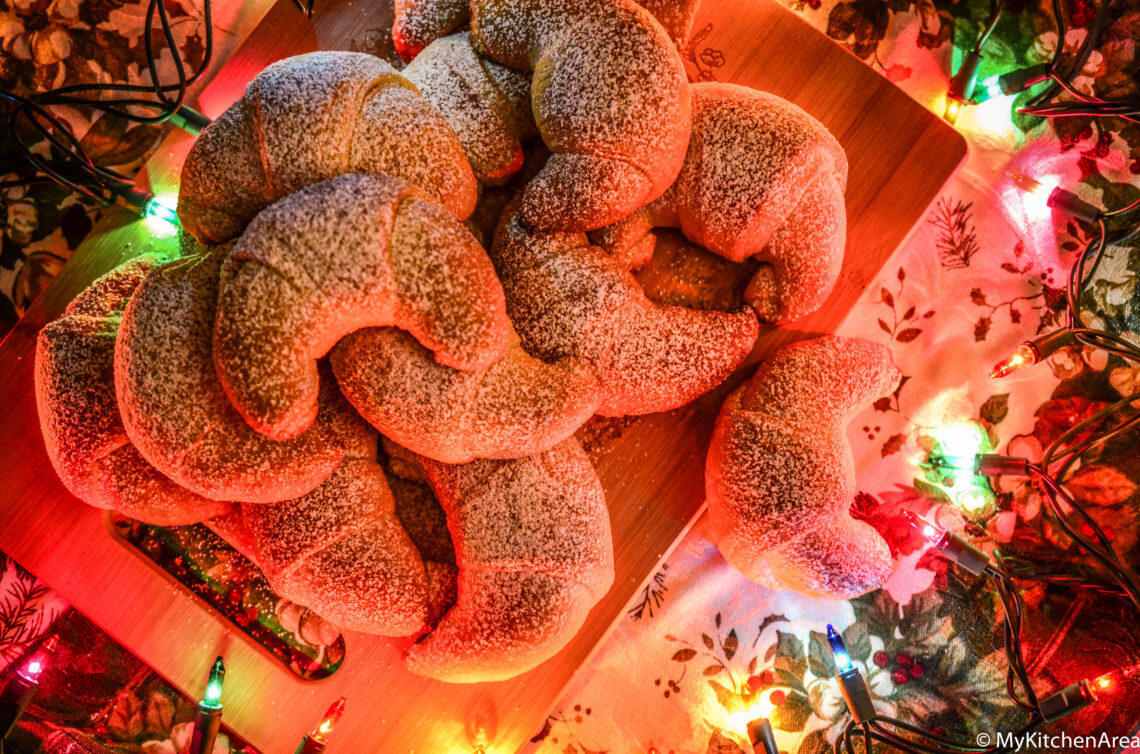 St. Martin's rolls – horseshoes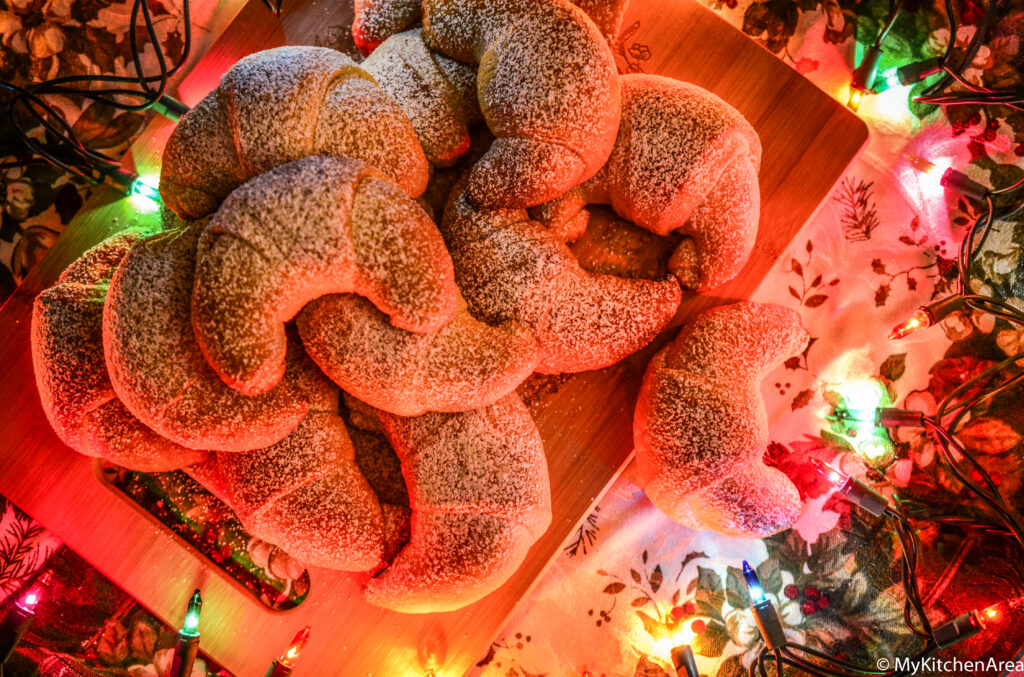 There are several pre-Advent traditions in Europe. Some of them are really old and from the pre-christian times. Feast of St. Martin is one of them. During ancient Greek and Rome it was the celebration of the god Bacchus/Dionysos. Celebration of the harvest, young wine and preparation for the Winter. During middle ages and christianization it took a more religious patern. There are several myths and legends bound with the person of St. Martin. Like the one with geese and with his cloak. Because he was a Roman soldier – horseman, his typical symbol are horseshoes (although some ethnologists think that they are actually the horns of the god Bacchus). Food traditions for the feast are serving baked goose or duck, sweet rolls filled with poppy seeds or walnuts or baked sweet brioches shaped like geese. In some countries there are several lantern festivals and parades and of course young wine festivities. Here I present my sourdough vesion of St. Martin's rolls – horseshoes with poppy seed or walnut filling. Lightly dusted with powdered sugar so they resemble the first snow of the season.
Ingredients for the dough (16pcs):
100g active sourdough starter (100% hydration, strong/white bread flour)
450g wheat strong flour
45g egg (1 medium egg)
160g butter
160ml milk
8g salt
85g sugar
20ml white wine or rum (2 tbsp)
5ml vanilla extract (1tsp)
Melted butter for the butter wash
Poppy seed filling:
110g ground poopy seed
50ml milk
20g butter
20g sugar
2 tbsp fruit conserve (I use mixed berry)
2 tbsp rum
½ tsp pumpkin spice
1 tsp. vanilla extract
1 tsp lemon zest / lemon extract
Instructions: Put poppy seed, milk, butter and sugar into the pan and cook the mixture until it thickens. Than leave it to cool down and add the rest of the ingredients.

Walnut filling:
150g ground walnuts
40g sugar
1 tbsp honey
2 tbsp rum
3 tbsp milk
1 tsp vanilla extract
1 tsp lemon zest/ lemon extract
Instructions: Put all the ingredients into the pan and cook. Stir continuously as the mixture thickens very fast. The walnuts release fat and the mixture will become thick almost like marzipan.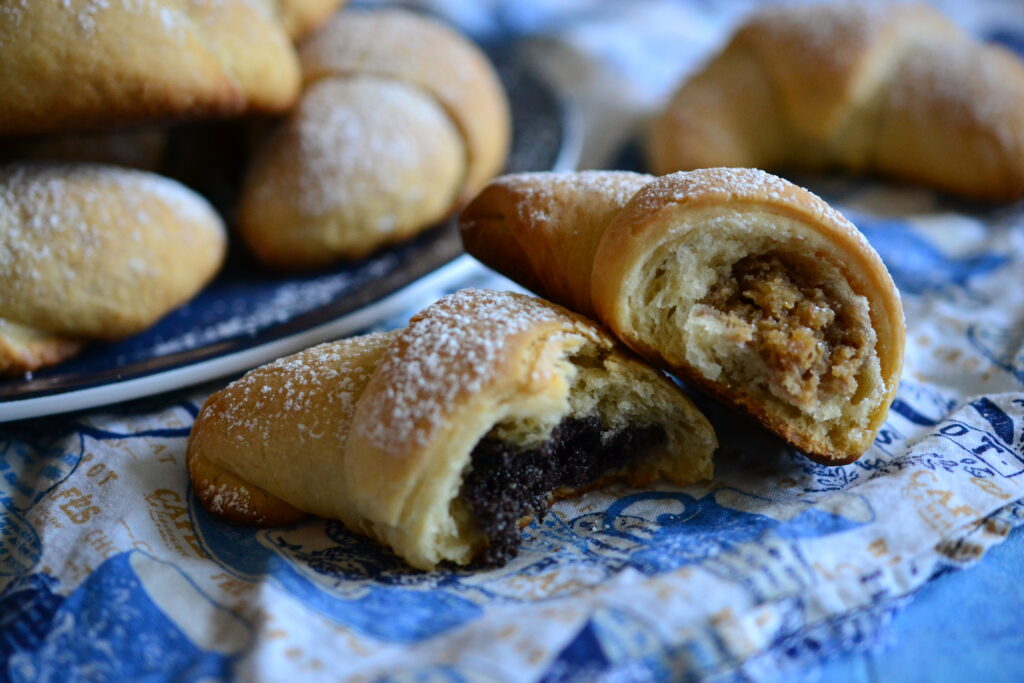 Instructions for the dough:
Mix the starter, flours, eggs, milk, sugar, salt, wine/rum and extract. Knead until the dough is smooth and passes the window test. Then add soft butter and knead until it is incorporated properly. At the end the dough should be soft and elastic. Cover the bowl with cloth or cling wrap. Leave it to rest, in this phase you can put it in the fridge or a cool place overnight. It has higher content of butter and it's similar to a brioche. The cool slow fermentation helps to develop a beautiful taste and the butter will not sweat from the dough. But if you want, you can let it rest at RT, just be careful, the temperature shouldn't be too high. Then leave it to rise until doubled.
In the morning take the dough from the fridge, if you chose the cool fermentation and leave it to rise at RT until doubled.
After that, punch it down, divide the dough into 2 pieces and roll each into a circle with 30cm diameter. Cut each circle with the knife (or pizza wheel) to make 8 triangles. Put one full tsp of the filling on top of each triangle's base. Bend both corners of the triangles's base and cover a little bit of the filling with them. Roll the triangle to the top and make a roll, just like croissants. Then bend both ends of the roll so it looks like a horseshoe. Let it rise again at RT until doubled. Bake it in a steamed oven at 210°C (410°F) for 10 minutes, then lower the temperature to 180°C (355°F) and bake until they are golden. Then while they are still hot, brush them with melted butter, put them on the wire rack to cool down and dust with the powdered sugar. Enjoy!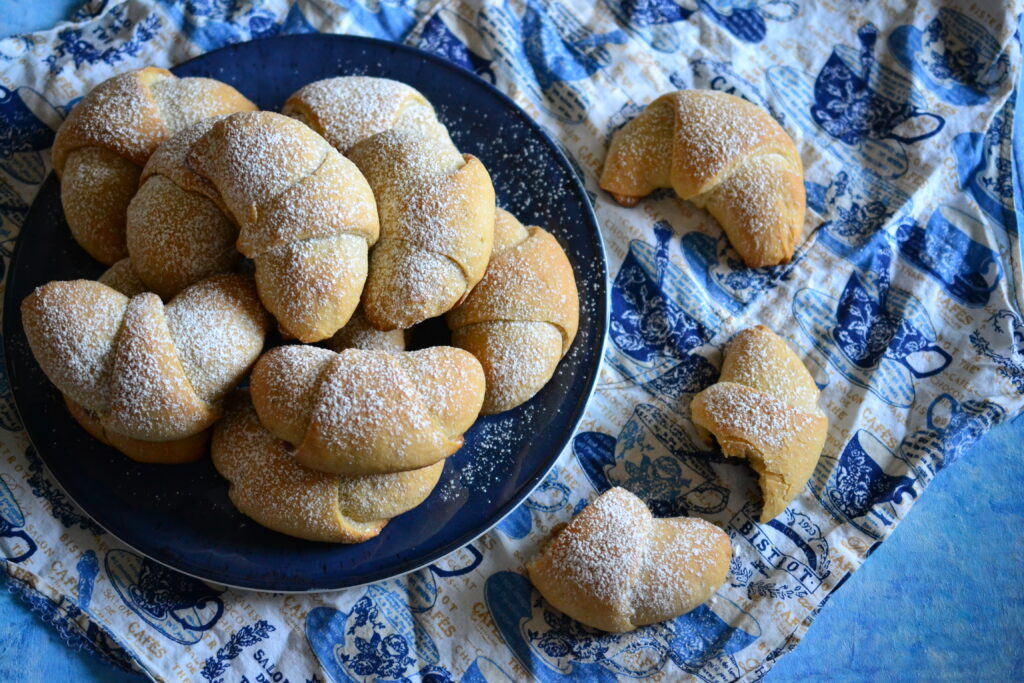 Please follow and like us: